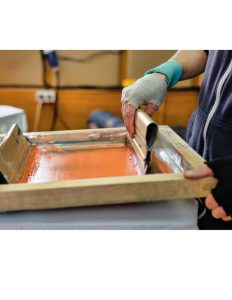 A California silk-screening company agreed to pay over $100,000 in unpaid overtime wages and an equal amount in liquidated damages to workers.  "Celebrities, retailers and manufacturers profit from T-shirts sold for $40 or more, while the low-wage workers who produce the merchandise work overtime to meet consumer demand and become victims of wage theft" said the DOL.  In this case, the company provided official merchandise for artists including Britney Spears, Lady Gaga, and Ariana Grande with shipments set for sale at retailers including Aeropostale, Footlocker, Kohl's, Target, and Urban Outfitters.  The company failed to pay its workers time and one-half for overtime hours — all hours over forty (40) in a workweek in violation of the Fair Labor Standards Act (FLSA).
Additionally, the DOL investigated manufactures of "hot goods" which are products produced by workers whose legal rights have been violated.  The DOL said "[a]ll parties, from the entertainers to the distributers and wholesalers, should ensure their profits aren't supported by workers in sweatshops, many of whom are immigrant women supporting families."
If you are a worker who is not paid time and one-half for all overtime hours, Martin & Martin will be happy to speak with you to determine whether you are entitled to unpaid overtime and liquidated damages (double damages).  An employer may not retaliate against a worker seeking to protect their right to overtime pay.